Head of the Armenian Apostolic Church details the "countless sacred spaces" in Nagorno-Karabakh at risk of becoming the "silent victims of conquest" by Azerbaijan.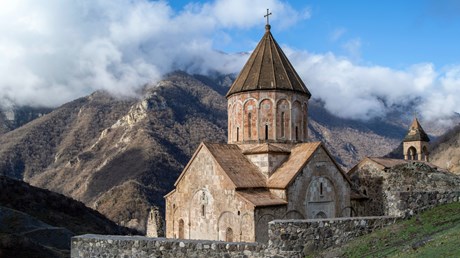 Editor's note: CT's complete coverage of Armenian Christians is here.
Armenian history is marked by the endurance of faith.
As members of the first Christian nation [301 A.D.], we have faced centuries of persecution and the risk of total annihilation at the hands of our hostile neighbors. Through our faith in Jesus Christ, we have seen the resurrection and revival of our people and the continuation of our sacred lineage, always remembering the utmost value of human life and doing our best to protect it.
But unfortunately, along the way, we have lost countless sacred places—churches and monasteries, cemeteries and monuments, sacred vessels and manuscripts—that have been the silent victims of conquest and war. They have disappeared from the map of human history, a lost piece of universal Christian heritage.
Today, one of the last remaining regions of our ancient culture is at risk of destruction. The land of Artsakh, known to the wider world as Nagorno-Karabakh, was at the center of a brutal war, an assault on its indigenous Armenian population. Our people have lived in this land for thousands of years, making it home to sacred sites and precious relics. According to our tradition, the 13th century monastery of Gandzasar contains the head of St. John the Baptist. The Monastery of Dadivank contains the tomb of St. Dadi, a direct follower of St. Thaddeus, the apostle of Christ who was one of the founders of the Armenian Apostolic Church.
It was with the utmost pain in our hearts that we watched this land come under grave danger over the past six weeks. Thousands of people, soldiers and civilians, elderly and children, were lost as our heritage took a direct hit. On October 8, Azerbaijani missiles struck the …
Read more: feeds.christianitytoday.com