In a new book, the renowned Christian artist gathers a lifetime of insights on faith and creativity.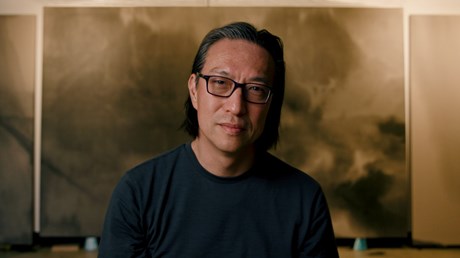 One of the most formative moments early in my artistic journey was hearing Andrew Peterson's song "Let There Be Light." I was in my late teens at the time, just beginning to grapple with the musical gifts that would eventually lead me to a career in composition. But as Peterson crooned the lyrics, "When your spirit is hovering over the deep / In the image of God just look into that darkness and speak," I remember the lightbulb illuminating in my mind: My creativity is an act of faith.
That singular notion has stayed with me throughout my life, fueling my creative work and giving me a sense of purpose. And I can think of numerous musicians, authors, poets, artists, and theologians who have similarly encouraged me along the way.
Fine artist Makoto Fujimura is undoubtedly such a figure. While his stunning work has captivated countless people around the world, the way he has lived out his vocation far exceeds the bounds of his artistry. Throughout his public life, he has promoted the interaction of art, culture, and faith through founding the International Arts Movement, establishing his own Fujimura Institute, and, more recently, serving as the director of the Brehm Center for Worship, Theology, and the Arts at Fuller Theological Seminary. He has also come alongside many other artists, advocating for them and supporting their efforts, as he did for me in writing the foreword to my first book.
In each of these pursuits, Fujimura has sought to promote a vision of what it means to create and how acts of creativity relate to our faith. Now, in his engaging book Art and Faith, Fujimura gathers the many themes from each corner of his vibrant career into a single volume that persuasively articulates a "theology …
Read more: feeds.christianitytoday.com