About a third experience racism and obstacles to leadership in congregations that value diversity.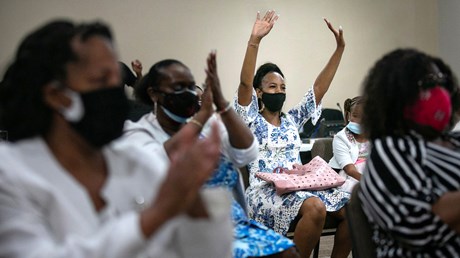 Most practicing Christians believe the church can enhance race relations in this country by welcoming people of all races and ethnicities, new research finds.
But 29 percent of Black practicing Christians say they have experienced racial prejudice in multiracial congregations, compared to about a tenth who report such an experience in monoracial Black churches. And a third of Black Christians say it is hard to gain leadership positions in a multiracial congregation.
The new report, released Wednesday, April 28, by Barna Group and the Racial Justice and Unity Center, examines the views of what researchers call "practicing Christians"—people who self-identify as Christians, say their faith is very important to them, and say they attended worship in the past month.
The research included 2,889 US adults, with 1,364 of them meeting the definition of "practicing Christians."
Even as the percentage of multiracial churches has dramatically grown, particularly in Protestant churches, there remain divisions on how to address racial justice among Christians as well as a willingness to do so, says the report, titled "Beyond Diversity: What the Future of Racial Justice Will Require of US Churches."
"Racial injustice is like a disease," writes Michael Emerson, co-principal investigator, in the report's welcome. "Our research has found that the disease has not gone away even as the supposed antibodies of multiracial churches have multiplied. Racial injustice has mutated into new forms, and it has proven highly resistant to the antibodies of multiracial church."
Emerson, a sociologist and co-author of the 2000 book Divided by Faith: Evangelical Religion and the Problem of …
Read more: feeds.christianitytoday.com