Latest report on Christian persecution finds 3 in 4 martyrs are in Nigeria, ranked among 10 worst persecutors for first time. Sudan finally exits top 10 and India remains, while Mozambique and DRC added to Open Doors watch list.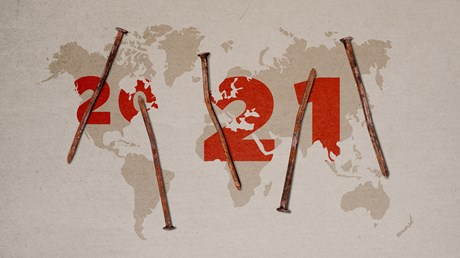 Editor's note: Translations of this report will be linked here by Friday afternoon in Spanish, Portuguese, French, Chinese, Korean, Indonesian, and Russian as part of CT Global's 350+ translations.
Every day, 13 Christians worldwide are killed because of their faith.
Every day, 12 churches or Christian buildings are attacked.
And every day, 12 Christians are unjustly arrested or imprisoned, and another 5 are abducted.
So reports the 2021 World Watch List (WWL), the latest annual accounting from Open Doors of the top 50 countries where Christians are the most persecuted for following Jesus.
"You might think the [list] is all about oppression. … But the [list] is really all about resilience," stated David Curry, president and CEO of Open Doors USA, introducing the report released today.
"The numbers of God's people who are suffering should mean the Church is dying—that Christians are keeping quiet, losing their faith, and turning away from one another," he stated. "But that's not what's happening. Instead, in living color, we see the words of God recorded in the prophet Isaiah: 'I will make a way in the wilderness and rivers in the desert.' (Isaiah 43:19, ESV)"
The listed nations comprise 309 million Christians living in places with very high or extreme levels of persecution, up from 260 million in last year's list.
Another 31 million could be added from the 24 nations that fall just outside the top 50—such as Cuba, Sri Lanka, and the United Arab Emirates (UAE)—for a ratio of 1 in 8 Christians worldwide facing persecution. This includes 1 in 6 believers in Africa and 2 out of 5 in Asia.
Last year, 45 nations scored high enough …
Read more: feeds.christianitytoday.com