What pop culture gets wrong about charismatic women, and what "The Eyes of Tammy Faye" gets right.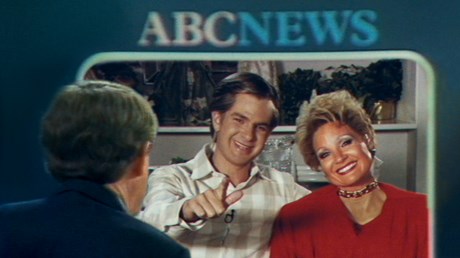 In 1998, just over a decade after the scandal that landed Tammy Faye Bakker's husband, Jim, in prison and crashed the couple's ministry empire, Tammy Faye was a guest on Roseanne Barr's daytime show. Roseanne's opening line of questions quickly turned obnoxious, even cruel: "I want to know what in the heck is the makeup a metaphor for? What does it really mean? Because you know it's really extreme."
Tammy Faye, obviously stung, tried to deflect the insult. Roseanne persisted: "No, your makeup is extreme. It's very extreme. … What does it mean to you? … Are you protecting yourself? You're putting so much stuff on your face; you're, like, hiding."
Michael Showalter's The Eyes of Tammy Faye (Searchlight, 2021), a film based on Fenton Bailey's and Randy Barbato's 2000 documentary of the same name, is no less interested in what her "look" meant and means. Jessica Chastain's performance, however, affords Tammy Faye a dignity Roseanne's interview did not. Hopefully, this difference signals a long-needed shift in how Pentecostals—and Pentecostal women, in particular—are represented in mass media and popular culture.
Broadly speaking, Pentecostals found Tammy Faye's look especially troubling and dismissed her as a "cruisematic" clown, while evangelicals feared her willingness to engage with gay people and her sympathy for those dying with AIDS. The culture at large, insofar as it noticed her at all, laughed her off as a tongue-talking, Bible-thumping pseudocelebrity.
When I was young (I'm the same age as Jay, Tammy Faye's son), reared by my parents and grandparents in …
Read more: feeds.christianitytoday.com