How a celebrity vocal coach changed her tune after encountering the truths of Scripture.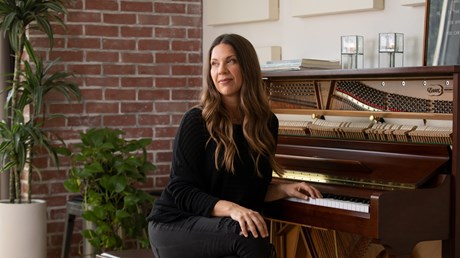 From the outside, my life looked great. I was living in a trendy area in Santa Monica, California, and enjoying a fantastic job as one of the top vocal coaches in Los Angeles. With almost a decade of experience at the highest levels of the music industry, I had worked with major-label and top-40 artists, as well as hit TV shows like The Voice and Glee. Clients regularly flew in from around the world.
Though I had moved to LA to pursue a career creating my own music, somewhere along the way that dream got lost. I wasn't a Christian at the time, but my music always had a strong spiritual bent—and that simply wasn't popular in LA. I made music and showed it to people throughout the city, but the response always left me cold. I faced so many disappointments trying to find a place for my music that eventually I stopped singing and writing altogether. The death of this dream was the greatest heartbreak of my life, and the five years that followed were the most creatively barren that I had ever experienced.
Praying to see truth
Throughout this dry time, I focused on my soaring coaching career, and I managed to find temporary peace and joy through an LA megachurch for "spiritual but not religious" seekers. The church was transdenominational, which appealed to me. Raised Roman Catholic, I later adopted Eastern beliefs about God and practices like meditation.
After almost 20 years of spiritual seeking, I truly believed I had attained higher levels of consciousness than most people. I believed there were many roads to God, and my thoughts were awash with "love and light" and other positive-thinking mantras. However, when I really looked at my life, I knew something was missing. Despite all my "spiritual …
Read more: feeds.christianitytoday.com