Leaders are still debating whether to hand over privileged materials as survivors and the majority of their own denomination have requested.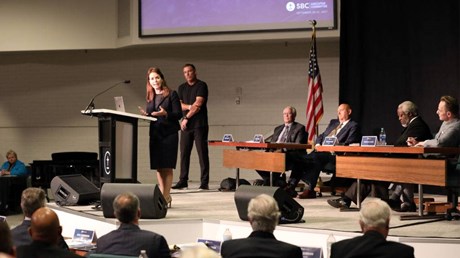 Months after the Southern Baptist Convention voted for a third-party investigation into how its Executive Committee responded to abuse allegations, leaders failed to adopt the convention's terms for the process, deferring to ongoing negotiations between leaders and a sexual abuse task force.
The two-day proceedings in Nashville highlighted growing turmoil in the nation's largest Protestant body and disappointed victims who had held out hope the convention would adopt a thorough outside review to address its missteps.
Still up for debate is whether the Executive Committee (EC) will comply with the convention's directive to waive attorney-client privilege to allow investigators to obtain relevant documents from EC members and staff. The majority of the EC voted against doing so, with several citing the "fiduciary duty" to protect the entity and the denomination as a whole.
After consulting with additional legal counsel who reportedly advised against waiving privilege, the EC voted to take another week to negotiate on access to privileged information. However, the group also agreed to fully fund the upcoming investigation up to $1.6 million.
"Not a win, but a step," tweeted Florida pastor and EC member Dean Inserra, who was among the minority of mostly younger and newer EC leaders who spoke up to waive privilege, as the convention had requested. "I promise we tried."
In a statement, Southern Baptist Convention (SBC) president Ed Litton said Tuesday's outcome "fell far short of the mandate expressed by the messengers."
At their annual meeting in June, Southern Baptists approved forming a task force to oversee a third-party investigation of the EC's abuse …
Read more: feeds.christianitytoday.com