Advocates say more subtle approaches and one-on-one engagement may actually do more to inform the unvaccinated without further dividing the faithful.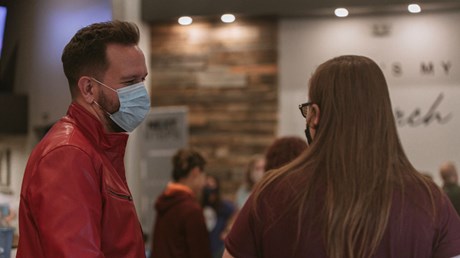 As COVID-19 vaccination rates slowed this spring, Americans' attention turned toward the groups less likely to get the shot, including white evangelicals.
Black Protestants were initially among the most skeptical toward the vaccine, but they grew significantly more open to it during the first few months of the year, while white evangelicals' hesitancy held steady.
With African Americans, many credit robust campaigns targeting Black neighborhoods, launching vaccination clinics in Black churches, and convening discussions featuring prominent Black Christian voices for reducing rates of hesitancy. So for those eager to see higher levels of vaccination, the question became: Are white evangelical leaders doing enough to engage their own?
The latest poll from the Kaiser Family Foundation, a nonprofit research organization focused on health issues, found that as of the end of April, white evangelicals (54%) were about as likely to have received the COVID-19 vaccine as the country overall (56%).
The difference comes with the attitudes among the unvaccinated. White evangelicals are half as likely as Americans overall to say they plan to get the shot ASAP, and 20 percent say they definitely won't be getting the shot, 7 percentage points lower than the rest of the country.
Most evangelical churches in the country span a range of perspectives on vaccination, which makes it difficult for pastors to know when or how to address the topic.
"I know pastors who won't even mention masks because people would leave. I'd say vaccines are even more sensitive," said Dan DeWitt, who directs the Center for Biblical Apologetics and Public Christianity at Cedarville University. "Pastors …
Read more: feeds.christianitytoday.com